The Spyder crew of Ian Fohrman, Jess McMillan, Chris Davenport, Christy Mahon, Ted Mahon, Scott Rinckenberger, and Jon Burrill celebrates on top of Mount Saint Helens. Photo By Richard Hallman.
The Ring of Fire Volcano Tour started in the parking lot of the Whole Foods Market in Reno, Nevada.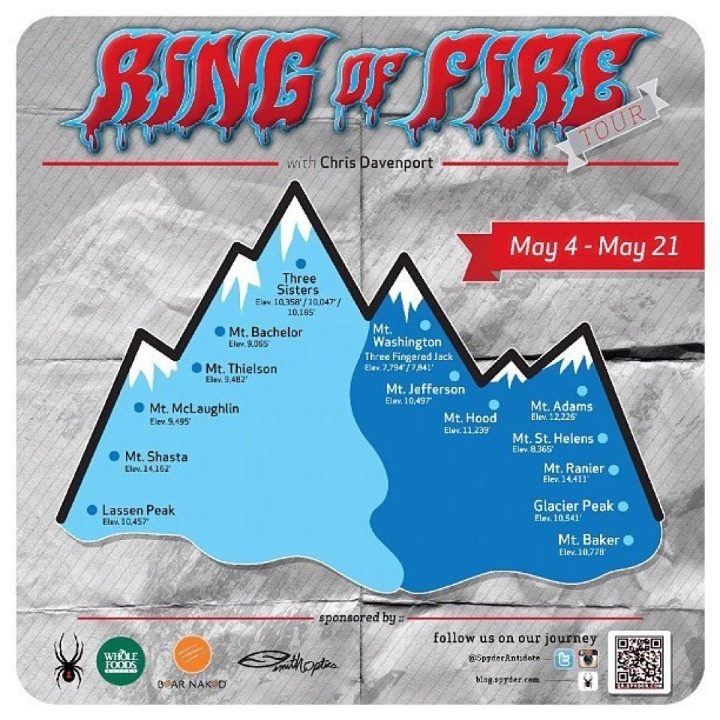 It is hard to describe how the journey felt, but I will attempt to bring you into the Ring of Fire by sharing some of my favorite quotes and experiences from the trip.

An email from a friend: "Advice for volcanoes: Get stoned. Yes, even you Jess. Leave the beacons probes and shovels in the car. Bring an iPod. Don't ever stop — just keep walking. Bring ski crampons. Wear a helmet if you're near any rock whatsoever. When you get weather windows, recent precipitation totals mean very little — wind and freezing levels are everything. "

"Just keep walking, don't ever stop" turned out to be some of the best advice anyone could have ever given me. "Just keep walking" was my mantra. It was volcano season in the Pacific Northwest. The weather was perfect. The corn cycle was in prime condition. It was time to ski some volcanoes.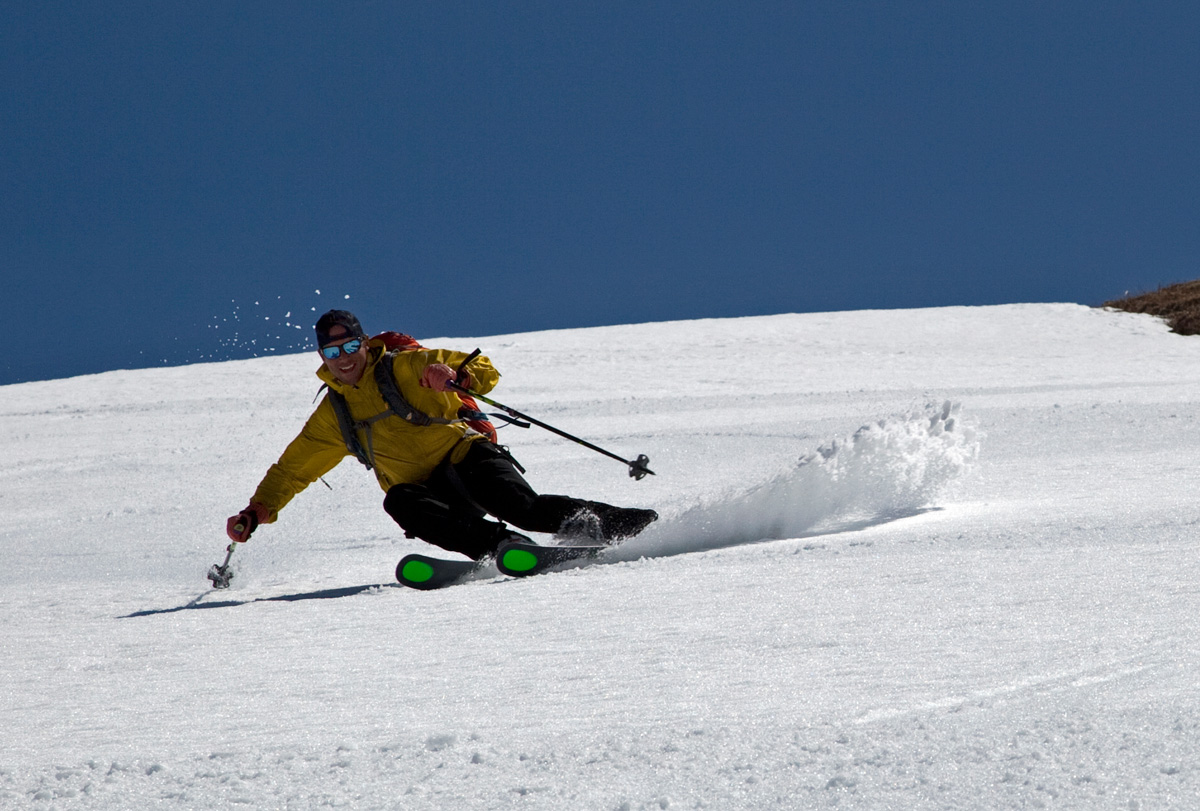 Chris Davenport skis perfect corn on Mount Baker. Photo by Ian Fohrman.

I found myself counting my steps. I would not allow myself to stop until I had walked 100 steps. And if I walked 101 steps, I wouldn't allow myself to stop until I reached 200. It is amazing how easy it is to trick yourself into walking when you are at 13,000 feet. This little trick of counting turned out to be a benefit on the Three Sisters Traverse just outside of Bend, Oregon.


The Three Sisters Traverse is comprised of three separate summits: North Sister (10,085'), Middle Sister (10,047'), and South Sister (10,358'). Here, Jess McMillan and Jonas Tarlen summit the South Sister. Photo by Chris Davenport.

The Sisters Traverse was the most challenging day of the trip for me. Chris Davenport and I hiked and skied an 18-mile traverse of over 10,000 vertical feet in just under 12 hours. It was late in the day and we were on our final accent, the south sister. I was busy counting my steps when all of sudden I just stopped walking. I could see the summit, but couldn't bring myself to take one more step. I stood staring at the summit wondering why the hell I was doing what I was doing when Dav's head appeared from the summit and said, "Are you coming?" "Yes, I'm coming." "Well then keep walking." Luckily, I laughed because I could've cried as took the final 1000 steps to the summit.


Jess McMillan traverses the North Sister. Photo by Chris Davenport.

The best aspect of ski mountaineering is that all of the mental and physical anguish of the accent is erased by the pure joy of skiing down. Every step feels worth it when you are ripping perfect corn.

"Isn't it amazing to push your body past your breaking point?" Chris Davenport said. "Once you have pushed past your breaking point, everything else seems possible." Dav told me this as we fell asleep that night in the land yacht. I thought he was crazy until I found myself on the summit of Mount Rainer.


The Spyder crew climbed and skied Mount Rainier in a day. Photo by Ian Fohrman.

Rainier in a day? "Don't most people take two days to ski Rainer?" I asked Dav as we entered Rainier National Park. "Yes, but wouldn't it be cool if we did it in a day?" Dav replied.


Climbing up Mount Rainier. Photo by Ian Fohrman.

We started up in the dark at 4:20 a.m. The Nisqually Glacier was well covered, with just a few major crevasses to navigate. By 9 a.m. we were up through the classic Fuhrer Finger Couloir and 9,300 vertical feet later we reached the summit. We were back to the land yacht in 11 hours. It felt good to have skied Rainier in a day.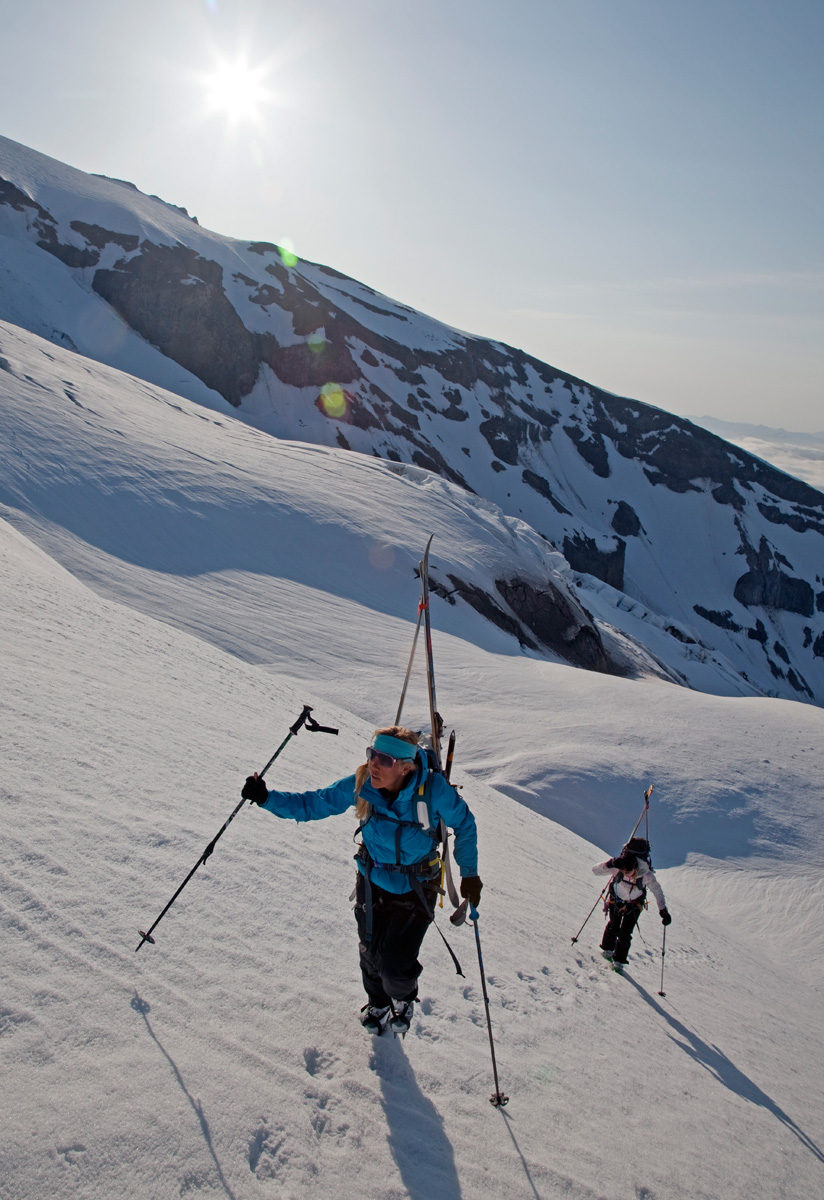 Jess McMillan and Christy Mahon boot up the Nisqually Glacier on Mount Rainier. Photo by Ted Mahon.
I have to admit that I truly had no idea what I was getting into when I decided to join Chris and Daron for the Ring of Fire Volcano tour. I had dabbled in ski mountaineering, but had never really understood what all the hype was about. I learned so much. Ski mountaineering isn't about reaching the summit. It's about skiing without boundaries, rules, and people. There is freedom in ski mountaineering. I will never forget standing at the top of Mount Jefferson. I could see my past, present, and future. It was awesome to see the peaks I had skied: Mount Bachelor and the Three Sisters. My future was just north of me: Mount St. Helens, Mount Hood, Mount Rainier. Everyone has heard of the saying, "Live in the present." We definitely were living in the present as we ripped 8,000 vertical feet of the best corn I had ever skied in my life.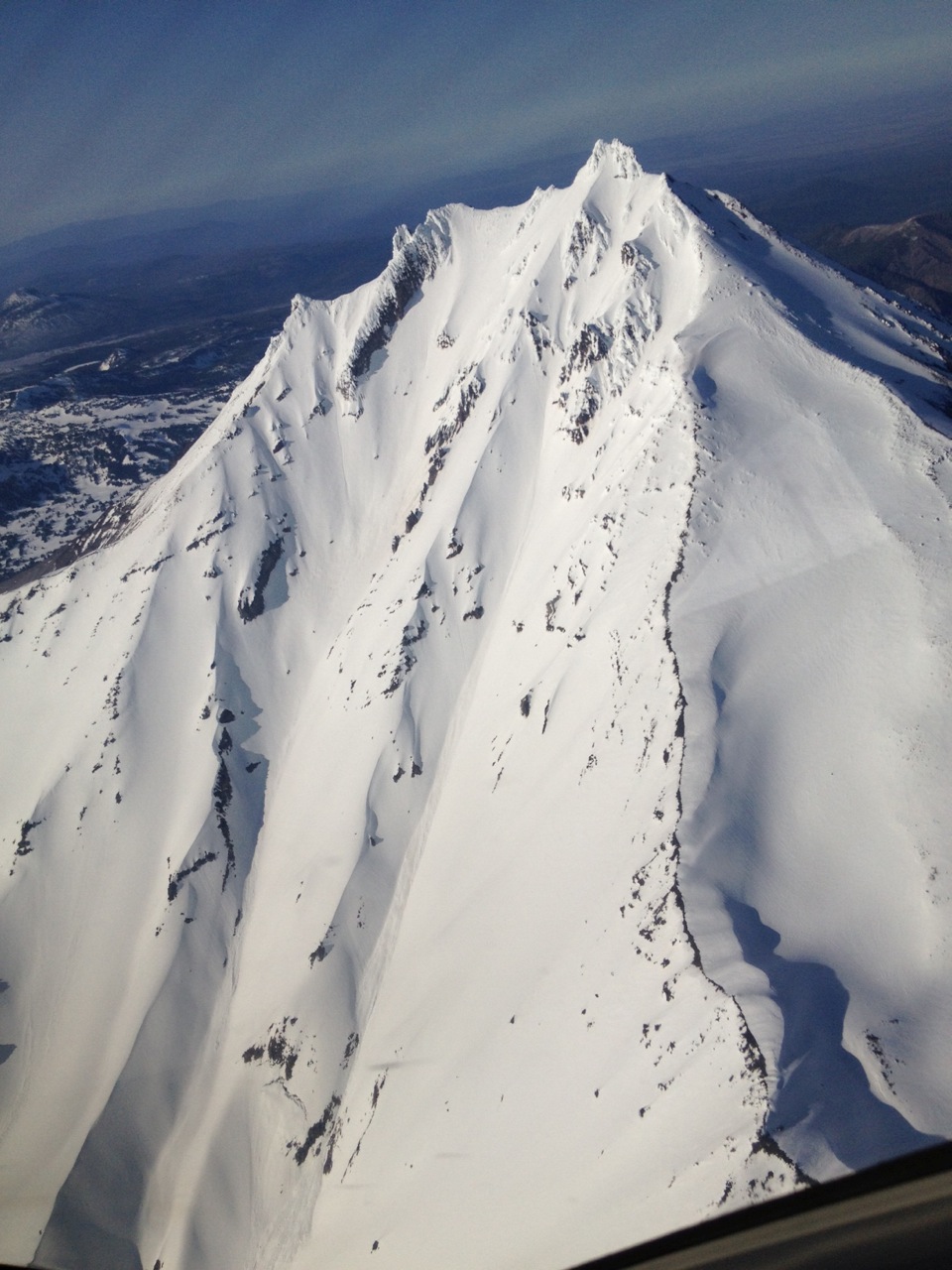 Mount Jefferson, looking so, so sick. Photo by Jim Morrison.

Click Here To Read About The First Part Of The Trip