Winter Storm Juno is just starting to give the greater New York City area a licking. In only a few hours, the entire Northeastern corridor, from New Jersey all the way up through Maine, will be under intense snowfall, high winds, and coastal flood warnings. All told, some 40 million people are under either a blizzard or winter storm warning right now. Several forecasters are whispering comparisons to the infamous Blizzard of '78, and with so much of our readership locking down their doors, and wondering when they hell they'll be able to ski all this fresh pow, we decided it was our dire responsibility to provide you with the most essential information and tips on how to weather this historic blizzard, and make sure you get some sick turns in once it's over.
#1: This is The Real Deal
This isn't the normal Weather Channel-hyped panic attack kind of storm that ends up dropping only six inches on the ground while paralyzing the collective psyche of the entire region. Tim Kelley, who forecasts winter weather for NECN, Jay Peak, and Ski The East, considers the parallels between this incoming storm and the infamous 1978 blizzard "tantalizingly strong." The National Weather Service is calling for 20-30" in the greater New York City area itself with even more forecasted for Long Island and Connecticut. Boston's looking at a similar forecast, with up to 36" possible near Worcester. The record of single-storm snowfall for Boston and Providence, Rhode Island was over 27" from the Blizzard of '78, and it's very possible this week's storm could match or break that current record.
Why is this storm set to crush mode? A newly-arriving high pressure system is arriving with cold arctic air from Canada, creating a strong gradient with the low pressure system climbing up the coast. A similar low pressure system passed by the Northeast yesterday, and which was actually stronger, but there was no high pressure system to contrast with. This time, the stars have aligned. However, Kelley has some reasons to be skeptical about his own forecasts for comparisons to '78; the tides will not be as high and the storm is not going to last as long. But it'll match it for ferocity.
#2: Don't Try To Do Anything Tomorrow
"A food delivery bicycle is not an emergency vehicle."- Mayor Deblasio on #Snowmageddon

— Raquel Laneri (@RaquelLaneri) January 26, 2015
New York City mayor Bill Di Blasio has outlawed road travel after 11 p.m. tonight for all non-emergency vehicles (all NYC parks just closed as well), while a statewide travel ban takes place in Massachusetts at midnight tonight. All MBTA services in the greater Boston area will be closed tomorrow for the entire day, while NYC subways will close at 8 p.m. tonight. You can track the city's 2,250 plows as they plow out the roads on an interactive map here. If you're hoping to ski tomorrow, you should already have left. Also, don't be that guy that orders delivery tonight, as highlighted by Mayor Di Blasio (above).
#3: Short Dunkin Donuts Stock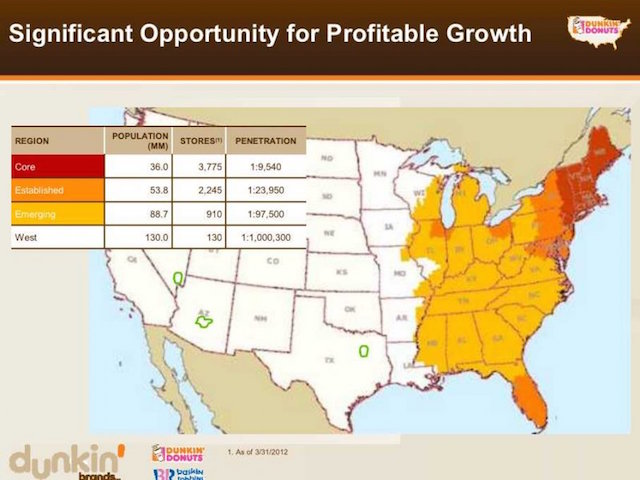 With 40 million customers snowed in and not legally allowed to travel for in some cases a full 24 hours, Dunkin Donuts, whose locations are heavily concentrated in the Northeast, is ripe for a short selling opportunity. Dunkins is currently trading at $47 per share, but who knows how far the stock will fall if tomorrow's morning coffee rush, then 10 a.m. doughnut run, then 1 p.m. Coolata run, and the evening pre-dinner coffee run, are all canceled due to impassible roads in New England. Other storm-related investment tips include buying stock in Netflix and road salt, and dumping your stock in airlines, with 5,700 flights already having been cancelled.
#4: Don't Bother Skiing Til Wednesday or Thursday
According to the weather gurus over at Ski The East, high winds gusting at up to 50 miles per hour will keep many ski areas from opening until "late Wednesday or maybe even Thursday" according to STE's Alex Kaufman. Stay patient, folks.
#5: But When You Do Ski, Don't Ski '93–Ski Massachusetts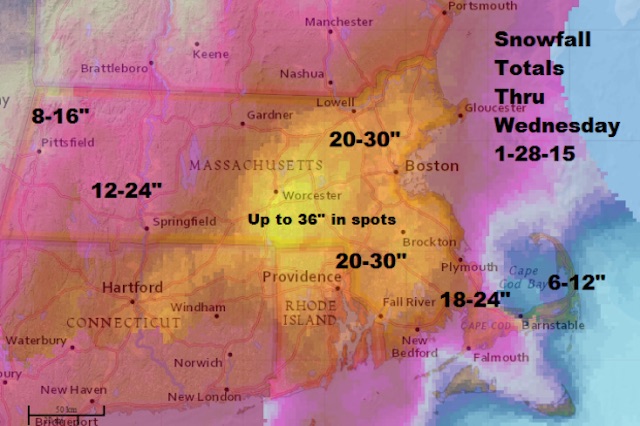 While the northern mountains might be getting relatively skunked, central Mass is gonna get wicked hammered! David Epstein/WBUR photo.
With the heart of the forecasted snowfall sitting right around Worcester, now is not the time to see what kind of deals Liftopia is offering for tickets at Killington, Wildcat, or Sugarloaf (although New England ski country is still expecting a foot or so out of Juno). Instead, the Commonwealth of Massachusetts' smaller hills will be ground zero for the deepest pow once the highways are cleared. Spots like Nashoba and Wachusett in the east of the state will be getting the heaviest snow–possibly 20-30"–while ski areas in the west of the state, like Berkshire East and Blandford Ski Area, are looking at 12-24". Wherever you're hoping to ski, it's probably best to pack your touring gear, as high winds and heavy snow mean power outages are just as likely as pow turns.
#6: NYC Skiers & Riders Should Think New Jersey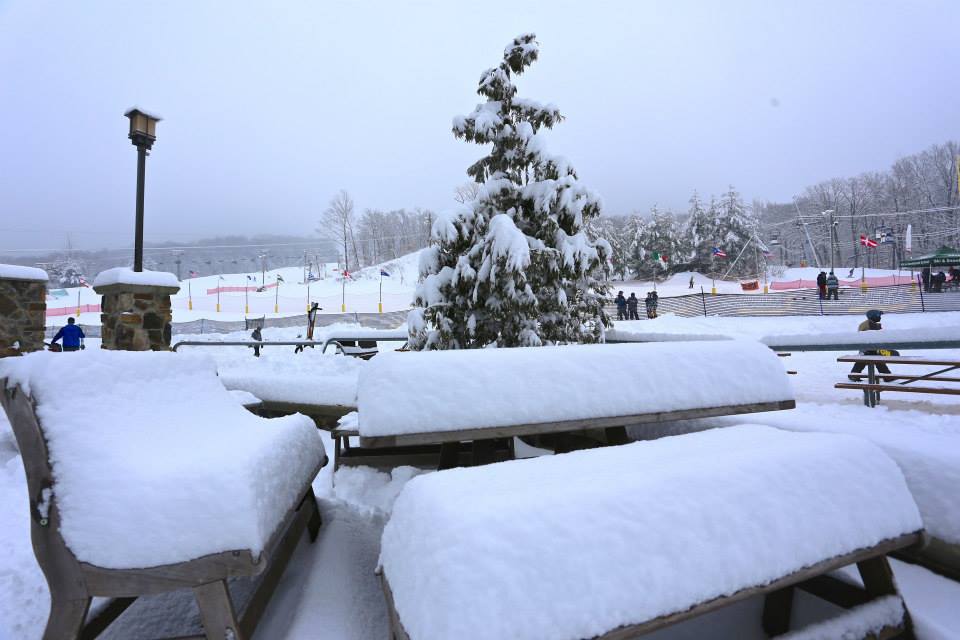 Mountain Creek got 10 inches this weekend and is expecting another 14-24" out of this storm. Mountain Creek photo.
With Winter Storm Juno mostly a coastal system, you'll want to hit the hills closest to the ocean, most of which are in New Jersey. Mountain Creek and Campgaw are both expecting 14-24", while New York hills closer to the Big Apple, like Hunter Mountain, are hoping for the same. The challenge may be now finding a steep enough trail to keep your speed up through thigh-deep snow, but hey, #Firstworldproblems!
#7: Get to Market Basket Early, Guy!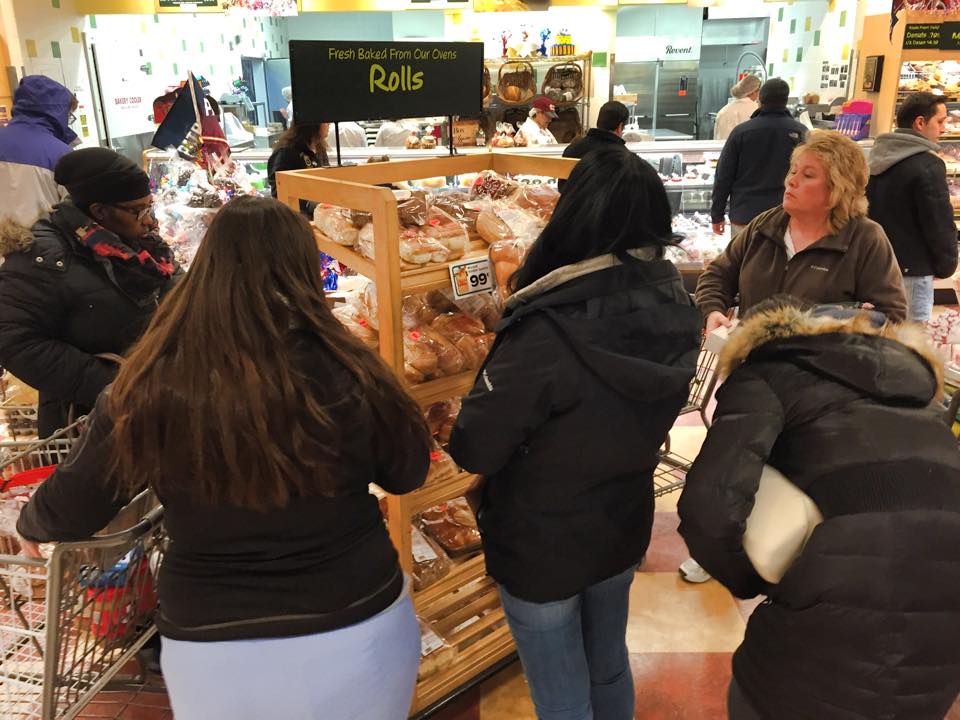 Those are MY rolls, guy!! Market Basket photo.
If you're hoping to get emergency supplies and groceries at your local Market Basket (especially in the metro Boston area), get there early–checkout lines are reportedly over an hour long at press time. Look to equip your shopping cart with reading materials, comfortable seating, and cocktails to survive the long wait. Looking for a deal? Get those giant sandwiches near the deli section that are three feet long. They're wicked big and wicked cheap, and can sustain a family of four for like 36 hours... guy.
#8: Stock up on TGR movies to keep you and yours entertained
With the roads closed and businesses and schools like to do the same, you're going to have a lot of time to kill and watching The Weather Channel only entertains for so long. All week right here on tetongravity.com, we're streaming last year's ski film, Way of Life, for free for all TGR members. Click here to enjoy that. You can also download a digital copy of either of our current films, Almost Ablaze or Higher, by clicking the links. Enjoy!
#9: Follow Ski The East for Public Advisories
PUBLIC ADVISORY: IF THERE ISN'T ANY BREAD LEFT TO BUY YOU CAN JUST MAKE PB&J SOFT TACOS. STAY TUNED FOR UPDATES.

— SKI THE EAST (@SKITHEEAST) January 26, 2015
The offices of Ski The East are currently working at a fever pitch to keep the East Coast ski community informed on the latest public advisories and necessary info. as this historic blizzard makes its way up the coast. Critical communications released over their Twitter account have included creative cooking solutions in the face of supermarkets lacking many basic essentials (see above), and how to keep your phone battery from dying when the power goes out and you can't charge it:
PUBLIC ADVISORY: WHEN/IF YOU LOSE POWER SAVE YOUR PHONE BATTERY. NO PANDORA. NO PORN. NO PATRIOTS. SORRY.

— SKI THE EAST (@SKITHEEAST) January 26, 2015
#10: And There's More To Come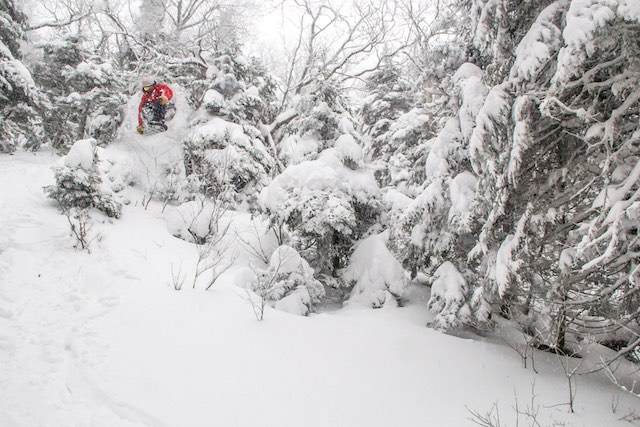 With two more storms on the way, there'll be plenty of this to go around. Jay Peak photo.
Temperatures on the north end of Canada's Hudson Bay–where the air feeding the high pressure system that helped create the current blizzard came from–are at a frigid -40 fahrenheit. That's going to continue to power up the high pressure driving down through northern Vermont, creating another storm Friday and a third the following Monday. "I have not seen a sequence of storms like this in years," said Kelley in his forecast. Thunderstorms now near Florida, along with other weather from the Gulf of Mexico, will be combining with that cold air from Canada to create a lot of good news for skiers and snowboarders in the Northeast over the next week to ten days. Get some!